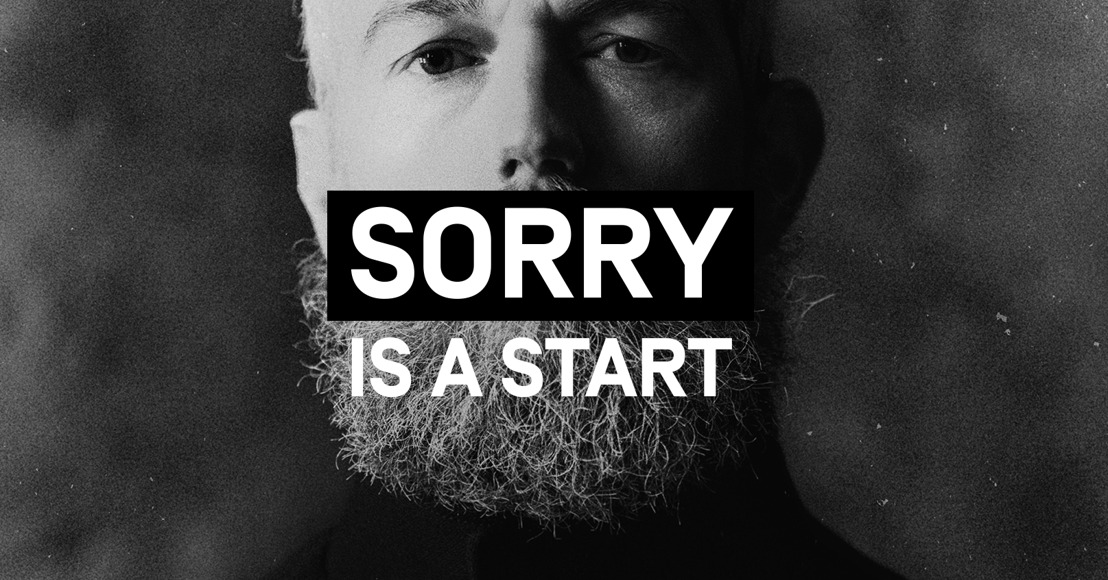 Sorry is a start: who will write the best apology to the Congo on behalf of the Belgian people?
Creative Belgium launches an open call to invite aspiring writers for a masterclass in copywriting
Tuesday, April 16, 2019 — Geoffrey Hantson, creative director at Happiness and board member of Creative Belgium: "Writing a thoughtful and sincere apology is not an easy task. You have to be able to empathize. Not only do you need to realize what is at stake, you also must try to put yourself in the shoes of the people you are addressing. Every detail counts: your tone of voice, your choice of words, the semantics you use, and most importantly the final content you will ultimately put to paper. We could state that a well written apology is a copywriter's ultimate accomplishment."
Words are powerful, a truth the communications industry is well aware of. The impact of our messages and actions comes with great responsibility. That is why we need to have smart and responsible writers. It is the reason we are constantly searching for compassionate, clever writers.
In Belgium there is a lack of writing courses for (aspiring) copywriters. Therefore, once every five years the Belgian advertising industry organizes its own masterclass in copywriting. To allow as many people as possible to enter this class, professional copywriter or not, Creative Belgium launches an open challenge. Everyone can take part and send in a letter.
Why 'Sorry is a start'?
Isabelle Van den Broeck, managing director at Creative Belgium: "Copywriters can make a difference for brands, but good writing can also have a profound impact on society as a whole. It is true that by applying for this competition you are able to win a job as a copywriter in an advertising agency, but more importantly, this campaign has the power to show that copywriters, and words, can be of social significance. The right words can unite people. That is the true power of writing."
The advertising industry wants to help create a positive change in the world, and for that it needs creative people with a social consciousness. That is why the assignment for each copywriting course has a societal angle. In 2014 we asked potential copywriters to write the best application letter for a jobless person to help them get a new job. This year the challenge is 'Write apologies to the Congo on behalf of the Belgian people'.
Time for a historical apology
Geoffrey Hantson: "Our Prime Minister has just apologized to the Metis children of the colony (children with a Congolese mother and Belgian father), but what about all the other Congolese people? The public debate shows a lot of Belgians agree that Belgium has to come clean with its colonial history and should apologize to the people of the Democratic Republic of Congo. Neither our king, nor the government have taken action so far. But do we, as Belgian citizens, need to wait for them to make amends? Why can't we take responsibility for the mistakes of our ancestors? As a people we can take a stand, and we can do what our king and government fail to do."
With this campaign Creative Belgium provides a stage for a historical apology. We welcome all Belgians to take part in the challenge. People can upload their entry as from April 17 on www.sorryiseenbegin.be or www.pardonestundebut.be
The 5 best letters will be published online on May 17, 2019. The Belgian people can then vote for their favourite apology. The winning letter will be published on May 31, 2019. We hope that the Congolese people will see this as a sign that they have allies among the Belgians.
The authors of the 40 best letters will be invited for a 2-day masterclass in copywriting.
The jury
During the course of this project, several representatives of both the African community in Belgium and decolonizing experts have been involved and consulted. Some of them will also be a member of our jury, such as: Dalilla Hermans (writer), Nadia Nsayi (Broederlijk Delen), Don Pandzou (diversity expert at De Ambrassade), Marc Reynebeau (journalist), Sarah De Bisschop (director), Deborah Houttave (student African languages), Tracy Bibo-Tansia (political scientist), Guillaume van der Stighelen (columnist, former advertiser), Stef Selfslagh (journalist, former copywriter), Frédéric Brébant (journalist), Stella Nyanchama Okemwa (activist)…
Further questions?
Information about the assignment and deadline can be found on our website www.sorryiseenbegin.be or www.pardonestundebut.be. The English version www.sorryisastart.be will be online as of April 16, 2019.
Our spokespersons Geoffrey Hantson (creative director at Happiness and board member of Creative Belgium) and Don Pandzou (public opinion-maker and policy adviser diversity and poverty at De Ambrassade) are available for interviews. Interviews can be scheduled through Arne Van Ongeval (publicist).
Campaign Credits
Client: Creative Belgium
Managing Director Creative Belgium: Isabel Van den Broeck
Agency: Happiness Brussels
Executive Creative Management: Karen Corrigan
Chief Creative Officer: Geoffrey Hantson
Executive Creative Director: Katrien Bottez
Creative Director: Philippe Fass
Strategic Director: Eline Goethals
Junior Strategic Planner: Wesley Roeland
Account Manager: Gitta De Vos
Account Executives: Arthur De Wachter - Kabibi Weka
Concept Providers: Simon Pyson - Iris Nuyts
Copywriter Dutch: Dee Verwaetermeulen
Copywriter French: Stéphane Opdenbosch- Alice Amant - Cathérine Quadens
Consulting Anthropologist: Cathérine Ongenae
Head of Design: Dries Lauwers
DTP: Kassandra Donia
Creative Content Director: Kenny Vermeulen
Editor: Simon Schuurman
Senior Digital Producer: Kris Van Wallendael
Producer: Bart Vande Maele
Content Maker / DOP Making off: Lisa Gadeyne – Sumi Arcos Mina
Managing Director (BLISS Interactive): Frederiek Pascal
Head of Technology (BLISS Interactive): Thomas Colliers
Project Manager (BLISS Interactive): Tran Mong Dao
Back-end Team Leader (BLISS Interactive): Ngo Quang Tri
Front-end Team Leader (BLISS Interactive): Nguyen Quoc Thai
PR: Arne Van Ongeval (Yourside) – Elisa Riffaud
Stand In: Iwein Vandevyver
Photographer/Director (LA Initials): Jef Boes
Assistant Photographer: Jan Opdekamp
Intern Photographer: Hannah Moens
Head of Production (LA Initials): Fauve Iannizzi
DOP: Marc Appeltans
Focus Puller: Danny van Deventer
MUA: Gwen Paula
Set Dresser: Sara Silva
Sound Director (SonHouse): Thierry Van Durme
Sound Producer (SonHouse): Rosalba Angioletti
VO Dutch: Marc Reynebeau
VO French: Philippe Résimont