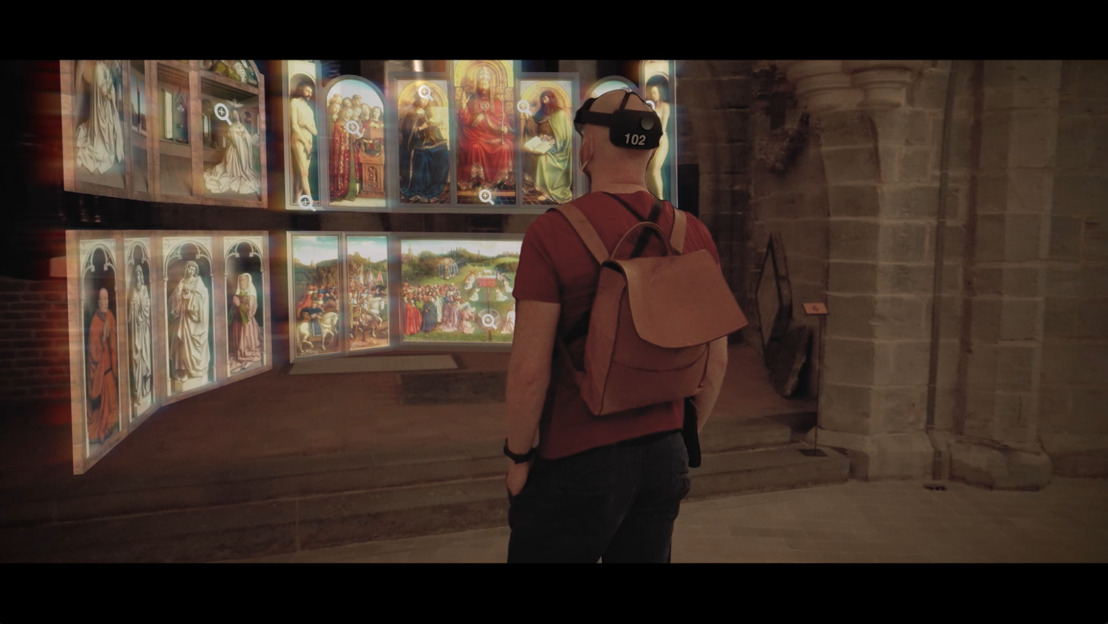 Happiness lets you experience the Ghent Altarpiece like never before.
Tuesday, August 31, 2021 — An unparalleled work of art is now also represented in an unparalleled way. 'The Ghent Altarpiece Beyond Realism' is a ground-breaking and innovative augmented reality museum experience, now to be discovered and experienced at St Bavo's Cathedral in Ghent.
The unique 'augmented' visit starts in the cathedral crypt and leads you from chapel to chapel. Along the way, your AR glasses provide you with a flow of different experience layers, one after the other, enhanced by unique and vivid storytelling. You are flashed back in time, to the construction period of the cathedral and the time the altarpiece was painted in honour of the Mystic Lamb. You are a privileged witness in the Van Eyck brothers' art studio and you yourself experience the incredibly eventful history of the Ghent Altarpiece.
Creating 'The Ghent Altarpiece Beyond Realism' took four years. The result heralds a new era of heritage experience, with a far-reaching personalisation of the museum experience. All educational content and experiences are adapted to visitors' possible knowledge levels on the Ghent Altarpiece. Moreover, the AR experience is offered in nine different languages! This way, there is not just one innovative museum experience, but no less than 40! Also, a specific experience was developed for the blind and visually impaired.
The overall experience is controlled via 'Gaze-input'. This means you can control, select, move... everything with your eyes, by gazing and blinking. It is a fascinating way to delve way deeper into heritage, appealing to both regular museum audiences and new generations of visitors.
| | | |
| --- | --- | --- |
| Hans Vandamme | Founder & Managing Director | Alfavision |
| Els De Rooy | Co-Founder | Alfavision |
| | | Provincie Oost-Vlaanderen |
| | | Kerkfabriek |
| | | Vlaamse Overheid |
| | | |
| Karen Corrigan | Executive Creative Management | Happiness Brussels |
| Geoffrey Hantson | Chief Creative Officer | Happiness Brussels |
| | | |
| Frederiek Pascal | Managing Director | BLISS Content |
| Dries Schaballie | Interactive Director | BLISS Content |
| Thomas Colliers | Head of Technology | BLISS Content |
| Kris Van Wallendael | Digital Project Manager | BLISS Content |
| Julie Post | Digital Producer | BLISS Content |
| Alexander Vervaet | 3D Artist / Unity Developer | BLISS Content |
| Gregory Vanlerberghe | 3D Artist / Unity Developer | BLISS Content |
| Stijn Huylebroeck | Unity Developer | BLISS Content |
| Yves Baes | Hardware installation & technical support | Cyberstratos |
| Kenny Baes | Hardware installation & technical support | Cyberstratos |
| Natallia Khurs-Charniauskaya | 3D Character Creator | Freelance |
| | | |
| | Additional asset creation | Triangle Factory |
| | Additional asset creation | Mindscape3D |
| | Voice over Digital Assistant | Voicearchive |